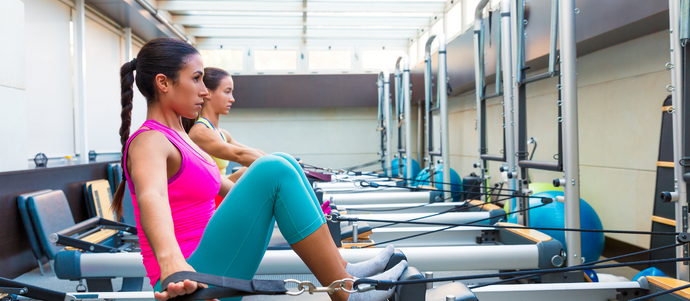 Whether you're a lifelong or novice Pilates trainer or fan interested in exploring the business side, you owe it to yourself and students/clients to eliminate potential barriers that could interfere with training. That means, in addition to offering guidance on the importance of using proper techniques and equipment to improve core strength and physical awareness, investing in liability insurance to minimize trainer and client risks.
It should be no surprise that not a single day goes by in the fitness industry without allegations of negligence or other issues against fitness professionals. Insurance makes it easier for professionals to focus on delivering the caliber of Pilates services their clients expect without fearing or worrying about unexpected issues like accidents, injuries, or something worse.
Below are some details about Pilates studio insurance and the different types of coverage available for professionals.
What Is Pilates?
Contrology is a fitness movement founded during the 1920s by German training enthusiast Joseph Hubertus Pilates and his wife, Clara Pilates. In his quest to improve his health and fitness to overcome the lasting impact of his childhood ailments, he developed many of the concepts and techniques used by dance and yoga fans worldwide today. It wasn't until his death in 1967 that the fitness industry changed the Contrology name to Pilates, the popular dance and body conditioning movement millions of people love today!
Pilates is a body conditioning, and toning exercise that emphasizes core strength and conditioning and utilizes specialized equipment. Since its introduction to the public, the industry has grown to include thousands of professional fitness trainers, studio owners, and millions of practitioners in the U.S. The benefits of Pilates include increased flexibility, muscle strength, and better muscle tone. Studio owners and instructors should invest in Pilates studio liability insurance to protect their business assets from legal consequences associated with the services they offer.
What Is Pilates Studio Liability Insurance?
Pilates studio owners should learn the benefits of having Pilates studio liability insurance to protect their health and wellness-based business. Pilates liability insurance protects instructors and facility owners from the financial and legal ramifications of third-party claims/events that happen onsite in the gym or studio or while engaged in related activities.
Offering training services without having sufficient liability coverage can become counterproductive, especially if faced with liability or negligence allegations due to poor member experience, unsatisfied customers, vendors, and more. Professionals need more than basic or standard coverage to deal with the continuously changing landscape of the fitness industry. General and professional liability coverage are crucial no matter the size of business operations, number or level of exercise services provided, students served, or professional expertise.
Pilates Insurance for Instructors and Studios
There are different types of Pilates insurance for professionals to consider that can help offset the cost of operating a fitness business or offering fitness services. It's important for professionals to choose the best Pilates insurance coverage options that meet their personal and business needs.
General Liability Insurance for Pilates Professionals
General liability coverage protects Pilates instructors and studio owners from legal claims associated with 3rd party bodily injury like slips or falls, etc. General liability insurance is applicable for covered events that happen while training/instructing in public and private facilities, community events, and offsite activities.
Professional Liability Insurance for Pilates Studio Owners
Accidents happen and should be expected. Although there's no way to completely prevent them, having Pilates studio professional liability insurance can be extremely invaluable. Professional liability insurance shields Pilates studio owners from legal liability and legal claims filed when people sustain injuries during one of their classes. It protects industry professionals from negligence claims they may encounter during their Pilates career by providing coverage for medical expenses, litigation costs, and more.
Pilates insurance rates and coverage for fitness professionals differ widely in the industry. And not all options are the most practical, affordable, or beneficial for Pilates studio owners and instructors. To avoid being over-insured or under-insured, professionals should evaluate their services, business operations, and unique risks so they can customize their coverage to fit their needs like a glove.
NEXOSync for Pilates Studios
Owning a fitness business and providing services is fun and exciting, but it's also a lot of hard work. Dealing with operational and administrative tasks can be challenging, especially for novices or those with limited time or resources. Fortunately, NEXOSync makes it possible for fitness professionals to focus more on what on their passion by streamlining key functions of their business operations. With NEXOSync, Pilates and fitness studio professionals gain peace of mind in the following ways.
Payroll is made easy. NEXO handles payroll taxes, employee checks, health benefits, and other related administrative duties.
Workers' Compensation with the convenience of greater buying power and more carrier options. Our fitness clients gain access to our comprehensive risk management services, "pay-as-you-go flexibility," and concierge risk management team.
Human resource management on autopilot. NEXOSync agents are available to tackle business administrative operations to keep business running smoothly from onboarding to termination.
Ready to Learn More About Pilates Studio Insurance
Pilates professionals can protect their hard-earned business revenue from allegations and legal damaging claims involving their personal or business reputation by working with NEXO, a credible fitness industry insurer that offers Pilates liability insurance. NEXO offers affordable rates and coverage options for Pilates insurance.
To learn more about Pilates studio liability insurance, contact NEXO Fit at (310) 362-6446 to talk to our friendly and knowledgeable insurance representatives today!
NEXO Pilates studio liability insurance provides fitness professionals with peace of mind, so you can focus on providing your clients with the best Pilates services and experience.
Categories
Fill out a short form to contact us with your questions or to receive a customized quote.
Recent Posts