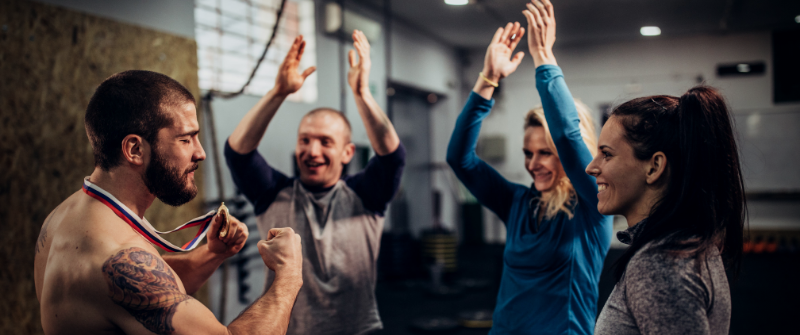 The CrossFit Risk Retention Group is the largest insurer of CrossFit Affiliates with approximately 50% of U.S. based Affiliates in the program. This community owned program was created by Affiliates, for Affiliates and its sole purpose to protect the CrossFit community.
The CrossFit RRG has also worked tirelessly over the last year to bring as much additional value to its customers as possible. This became particularly crucial during COVID-19, when gyms were hit incredibly hard with to mandatory shutdowns and every ounce of coverage mattered.

60-Day Grace Period: This was implemented for all CrossFit RRG members in March of 2020. This allows Affiliates to bind coverage with the RRG but hold off on making payment until 60-days after the coverage effective date. Affiliates are also able to take advantage of our financing option in combination with the 60-day grace period offer, allowing for financial flexibility.
Changes to Membership Contribution: Membership Contribution has been a building block of the CrossFit RRG since its inception. Each Affiliate purchases 5 shares of RRG stock to become a shareholder of the company. A total of a $1,000 contribution must be paid over 5 years, granting members access to the major benefits of the RRG: access to CrossFit's legal team and representation on the Board of Directors, which meets twice a year. The RRG has worked to make it easier than ever to pay the Membership Contribution. Rather than a mandatory $200 every year, Affiliates now have the flexibility to pay a minimum of $50 annually, as long as the full $1,000 is paid in full after 5 years.
Member Deals: The RRG has coordinated discounts for RRG members on popular products and brands within the CrossFit community, including RX Smart Gear and Beyond the White Board. If you have an active CrossFit RRG policy, you can tap into these deals by clicking here and logging in.
Communicable Disease Coverage: CrossFit RRG is currently the only insurance provider in the fitness world that is still offering Communicable Disease coverage with a $250,000 limit. This extends coverage for a suit due to a Communicable Disease, including COVID-19. Even if this is not a worry for you, if someone files suit against you, you will need to pay to defend yourself, which can rack up some hefty bills if this coverage is not included in your policy.
Online Claims Reporting: In an increasingly technological world, the RRG has made it easier to report a claim using our Online Claims Reporting tool. They will review your claim and get back to you within 1 business day with receipt of your incident. However, if you would prefer, you of course are welcome to call the office and speak to a claims manager.
Online Resources: CrossFit RRG and its partners, Nexo Insurance Services, have accumulated a wide variety of sample documents and tools so that gym owners can run a successful business and protect themselves as best as possible. These sample items include waivers, abuse standards, emergency & safety response guides, employee handbook, and more! Nexo also has a free How to Start a Gym Business e-book for new gym owners looking for a successful start. All of these items are free to active policy holders, they are just a call or email away if you'd like a copy!
The RRG was built on bringing as much value to its Affiliates as possible by having a policy that was developed specifically for CrossFit operations. To give testament to the scope of its policy forms, here some of the items that are automatically included in the RRG policy:
All CrossFit related operations: along with the fundamental CrossFit related movements and activities, if CrossFit LLC has a Preferred Course on the subject, its included in the policy.
Youth Training: CrossFit RRG has no age restrictions in its coverage. This allows Affiliates the flexibility to determine what age groups they are most comfortable working with.
Open Gym & 24-hour Access: there are no restrictions within the RRG policy regarding Open Gym at your facility. If you have 24-hour access, coverage is also extended, however there are a few additional requirements that must be put in place.
Off-site training: RRG members are welcome to train outside of the main brick and mortar of their building, including, but not limited to, parking lots, common areas, outdoor activities at local parks and beaches.
Virtual Training: Affiliates can train their members virtually, at any time and in any place.
Trainers: All W-2 employees and CrossFit certified trainers are automatically extended coverage. If you have non-CrossFit 10-99 trainers, click here to read more.
Liquor Liability: Holiday and birthday parties are a part of CrossFit culture and the RRG won't stop you from having fun. If you are not in the business of manufacturing, distributing, selling, or serving alcohol, you are good to go!
CrossFit, LLC Requirements: all of CrossFit, LLC's insurance requirements are automatically built into the policy, so you do not have to worry about missing anything! All of you required documentation is also sent off to the Affiliate Support staff once you bind coverage so you can scratch that off your to-do list!

Touch Base with Us!
CrossFit RRG is always looking for additional ways to bring value to Affiliates so if anything is missing, feel free to contact them! You are also welcome to contact NEXO Insurance if you have any suggestions or questions. There are a few new things launching throughout the coming year so keep an eye out!
[1] This includes training on vertical apparatuses such as ropes, peg boards, and more, which are frequently excluded from other policies.
Categories
Fill out a short form to contact us with your questions or to receive a customized quote.
Recent Posts