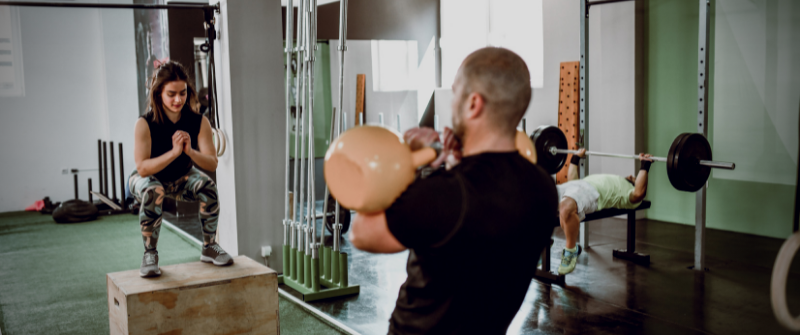 The COVID-19 pandemic's effects have been detrimental to the fitness industry. The latest report by the International Health, Racquet & Sports Club Association (IHRSA) shows that the industry lost approximately 50% of its revenue. Many gyms also shut their doors, some never to reopen.
The pandemic is easing, and there seems to be some reprieve for the fitness industry. However, full recovery and growth is not expected until 2023-2024 and beyond.
Reeling from the Effects of the COVID-19 Pandemic
Almost all state and local governments mandated the closure of businesses in 2020 in a bid to limit the spread of the COVID-19 pandemic. Gyms, which involve a lot of touching and physical contact, were among the most affected.
To this end, many gyms and fitness centers across the country remained closed for the better part of 2020. Consequently, many gyms saw their revenue declined by more than half, as mentioned earlier.
Sadly, 17% of gyms in various locations were shuttered permanently by the end of 2020, according to the IHRSA. Several major fitness brands, including 24-Hour Fitness, Gold's Gym, and Town Sports, declared bankruptcy. However, small gyms were the most affected. The pandemic is easing now, but some gyms are still not sure about their future.

The Fitness Industry is Coming Back
The pandemic is easing, and many gyms around the country are open after many long months. However, most of these gyms are open at limited capacities. What's more, not everyone plans to go back to in-person exercising at the gym — they are exploring alternative options, as discussed later.
A recent survey conducted by the IHRSA reports that more than 90% of respondents plan to go back to in-person training at the gym after the pandemic is over. This is a promising figure, considering how much gyms have lost. However, it is still a decline from pre-COVID levels. Additionally, many people plan to scale back their in-person training, meaning that there will be less attendance overall.
Approximately 42% of fitness club members used to attend their gyms three to four days per week before the COVID-19 pandemic. However, the recent report by the IHRSA indicates that this percentage has dropped to 35%. Consequently, gyms will see less traffic, even after the pandemic passes. This decline in attendance will affect different types of gyms by varying degrees, as explained below:
The future looks bright for many traditional gyms. High-value, low-price gyms are expected to recover quickly, thanks to their affordability and efficiency. Premium gyms will need to work harder, as many are mostly located in hard-hit cities. However, they have the necessary resources to support social distancing and adopt digital fitness solutions.
Boutique studios show greater promise than traditional gyms. However, the growth rate will vary depending on various factors.
Studios that offer multimodal equipment will rebound quickly, as this equipment is not available on the digital platform. However, spinning studios will see a slower recovery rate, thanks partly to the competition posed by Peloton home exercising equipment. Yoga studios will also face intense competition from digital platforms, as many poses can be done at home.
The fitness industry is not dead. In fact, a recent report submitted to Research and Markets indicates that the industry will grow to $96.6 billion by 2024. However, this will be a rocky growth, as it will take some time for the industry to recover from the pandemic's effects.
The Changes Coming to the Fitness Industry
The fitness industry will undergo several notable changes as it tries to adapt to a post-pandemic world. Some of these changes include:
Digital fitness was trending even before the COVID-19 pandemic, according to surveys conducted in 2019. However, its adoption has been expedited following the closure of gyms during the pandemic.
Many gyms resulted to content creation as a means of coping with closures during the pandemic. Many people also resulted to exercising from home, using digital content for guidance, and buying basic exercising equipment.
Peloton has greatly contributed to this, as its customer base has been growing by more than 100,000 subscribers per month. In addition, a recent survey shows that 80% of fitness club members plan to continue exercising from home (in addition to in-person exercising at the gym).
Wearable Tech Integration
Wearable exercising technology has also been growing in popularity. Gadgets such as wearable smartwatches that measure metrics such as the number of calories burned have become more popular during the pandemic. Additionally, exercise-oriented apps have increased in number — several fitness brands have been developing their apps to cater to their growing digital customer base.
Many gyms and fitness centers are trying to balance value delivery and affordability. Consequently, many gyms are focusing more either on cost-conscious value customers or high-end premium customers.

Opportunities to Leverage for Faster Recovery
Gyms can adopt some changes to fast-track their recovery before and after 2024. Some of the opportunities available for leverage include:
Digital fitness solutions are here to stay, as highlighted earlier. Gyms will see many of their customers come in less often. They can bridge this absence by offering digital fitness solutions that their clients can use at home.
These solutions may range from video tutorials (live or recorded) to fitness apps. Gyms will also need to integrate more wearable fitness gadgets to meet their clients' digital needs.
H-value, low-price gyms have a higher potential to recover compared to other gyms. Many people will be conscious about their health and fitness after the pandemic. Additionally, many clients will be value-oriented, seeking to gain as much as possible from their training sessions. As such, it makes sense for more gyms to adopt a HVLP approach.
Final Thoughts
The fitness industry has shown great resilience during the pandemic. More gyms are opening up as the pandemic eases, and many will return to full capacity soon. Additionally, the industry is exploring alternative solutions, including digital exercising solutions.
However, full recovery is not expected until 2024, when the industry is expected to reach more than $96 billion. The rate at which your brand recovers will depend on how well you adapt to the ongoing changes. Feel free to contact us today!
Categories
Fill out a short form to contact us with your questions or to receive a customized quote.
Recent Posts