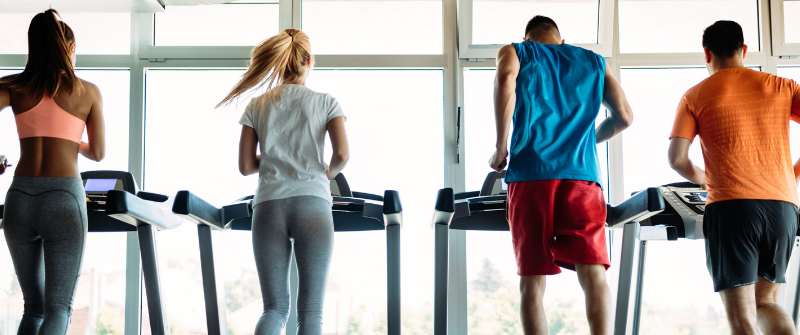 When it comes to choosing an insurance policy, it's best to consider ways to customize your coverage. Whether you've been in the game for a while or still testing the waters as a new gym owner, you'll need more than a general or basic liability insurance policy. Don't fool yourself into thinking that it's possible to get by with a one-size-fits-all policy. Without proper coverage that fits your business like a glove, you run the risk of losing everything you've worked so hard to create.
At NEXO, we provide customized gym liability insurance options for fitness professionals such as yourself. No matter what your gym insurance needs are, you can count on us to keep you covered. Take a look at how beneficial customized gym liability insurance can be.

Broad Coverage Is Not Enough
No matter how you cut it, your gym or fitness center is unique. Though it may offer similar services as local competitors or even target a similar audience, your gym needs protection against the unexpected. In order to get a policy that works for your business, you need to think of potential issues that may arise and use them as guidance while shopping for coverage.
Don't assume that a general policy is all that's necessary to get started or to rely on for a short time. Accidents and unexpected events that could put your gym out of business can happen at any time. It's impossible to know when something or someone like an employee, trainer or gym member is going to get hurt or fall ill when on the premises. The ramifications of an accident or illness affecting your workers or guests can turn into legal complaints or lawsuits and compensation for medical expenses and lost wages, and complaints that can hurt the gym's reputation. There's also the possibility of an earthquake, vandalism, etc. occurring that decimates your business to the point of it having to close down for repairs or until some legal matter is resolved in your favor. These are all situations that can interrupt operations, costing you time, money, revenue, and more.
As a gym or fitness center owner, you must keep in mind that your business has unique characteristics that remain vulnerable with general liability coverage. A customized general liability policy is more beneficial and offers a much higher ROI.
Equipment Coverage: You can't run a gym without equipment. Everyone knows that fitness equipment and damage are often synonymous. It's hard to think of one without the other. Gym equipment in professional settings gets used and abused and can come up missing due to theft, or damage from vandalism or fire, flood, etc. Your equipment could also end up damaging someone or something. Either way, having customized gym liability coverage helps make it easier for you to cover the expenses and navigate potential challenges that come your way. The same goes for if the floors become warped, cracked, or broken from dropped weights.
Workers' Compensation: The risk of injury for trainers and gym professionals is high and so is the likelihood of employee-to-customer incidents. Owners are responsible for employee-related medical, wage, and other associated expenses that their workers incur due to covered events. This also includes litigation and legal costs due to certain types of customer or employee-related lawsuits.
Employment: Gyms are high-risk environments for trainer and customer negligence allegations and incidents. Theft, harassment, discrimination, and other concerns can be expensive to deal with without the right coverage; so can the fallout to your gym's reputation even if alleged complaints are valid or proven false.
Business Interruption Peace of Mind: Things can happen unexpectedly that can halt your gym's revenue and operations intermittently or indefinitely. Customized gym liability insurance provides coverage for lost revenue. If a storm occurs that damages your gym to the point of it needing significant repairs, you can rely on your insurance to help absorb any loss.
There are many considerations besides those listed here that gym owners can use to beef up their insurance protection. Insurance products and policy options vary by insurer. Owners should carefully review their circumstances to ensure they design their coverage to be a safety net that adequately supports their needs.
If these things were to occur while your gym is uninsured or without the right level of coverage, it falls you as the business owner to use professional and personal resources to overcome things that can make owning and managing a gym way more difficult and stressful than necessary. With a customized gym liability policy, after filing a claim, you leave the heavy lifting to the insurer.

Make Your Coverage as Unique as Your Business
With customized gym liability insurance, owners can weather the ever-changing landscape of the fitness industry to better meet their customers' needs and expectations without falling prey to the calamities and challenges that come their way. Instead of relying on broad coverage that leaves behind vulnerabilities, owners can tailor their gym liability coverage so they can enjoy more of what they love and use fewer resources doing so. Surprisingly, for many business owners, especially in the fitness industry, that's not an easy task.
NEXOFit is on a mission to make it easier for gym professionals to get the coverage they need without the stress and hassle. Call (310) 937-2007 to talk to one of our representatives. We are here to serve you and are more than ready to discuss your gym's unique needs to ensure you get the customized gym liability insurance you deserve at an affordable rate.
Categories
Fill out a short form to contact us with your questions or to receive a customized quote.
Recent Posts